Over time, the history of fashion has witnessed some breakthroughs through innovative ideas. The emergence of new pieces of clothing with different styles and purposes reflects not only a designer's inspiration but also people's needs. As time continues to challenge our understanding and appreciation of fashion, the digitalization of the fashion industry will only continue to grow. 
After all, this exciting venture was the industry's first fundamental approach to technology in the digital era. This transition continues reaching recognition since humanity yearns for the search beyond the physical.
The evolution of the fashion paradigm in recent years has dramatically compelled fashion enthusiasts. However, to understand this evolution, it is crucial to know some of the facts that embrace the rise of digital fashion.
The Origins of Digital Fashion
The first digital piece of clothing took place in 2018 by the Norwegian brand, Carlings. A total of 19 pieces used 3D technology to design and replace textiles and fabrics for pixels as the leading resource for design.
This collection aimed to raise awareness of the harm caused by traditional fashion production while still allowing customers to show off realistic new garments. Besides clothing, Carlings also teamed up with virtual influencer Pearl to create a campaign set entirely in the digital era.
Henceforth, in 2019, the retailer launched the first augmented reality printed T-shirt titled "The Last Statement."
Virtual brand The Fabricant is also considered a pioneer of digital fashion. Founded in 2018, the brand drives to define the meaning of a "digital fashion house." It has successfully collaborated with brands like Tommy Hilfiger and Soorty.
The digitalization of the fashion industry has improved the design process, setting a new standard for clothing creation. In recent years, prestigious fashion brands have been adopting some of their designs into this digital trend.
How Luxury Brands Embraced Digital Transformation
High fashion retailers raided into virtual assets for clothing when they began comprehending the importance of digital transformation in a shopper's daily life. Back in 2018 and 2019, some luxury brands started to refine their designs and solutions accordingly.
Gucci
The reinvention of Gucci was led by creative director Alessandro Michele, with a digital strategy to reach customers' satisfaction.
For its spring 2018 campaign, the Italian brand developed in-store augmented and virtual reality installations to increase customer interaction. Shortly after, Gucci built a Facebook-integrated chatbot and scannable adverts, proving a great success in this new era.
LVMH
In 2019, LVMH, the French multinational conglomerate that houses Louis Vuitton, Dior, Sephora, and more, created an accelerator program at the Station F startup campus in Paris.
The firm developed an artificial intelligence solution that allows consumers to detect counterfeit products with their smartphones. In addition to this, LVMH Maison went all digital for Paris Fashion Week for its men's Spring/Summer collection.
Moschino
This high fashion brand created an impactful campaign inside a video game environment. In 2019, Moschino released a capsule collection inspired by the popular online game The Sims.
The Moschino x The Sims Capsule Collection reinvented digital fashion and achieved to attract younger audiences.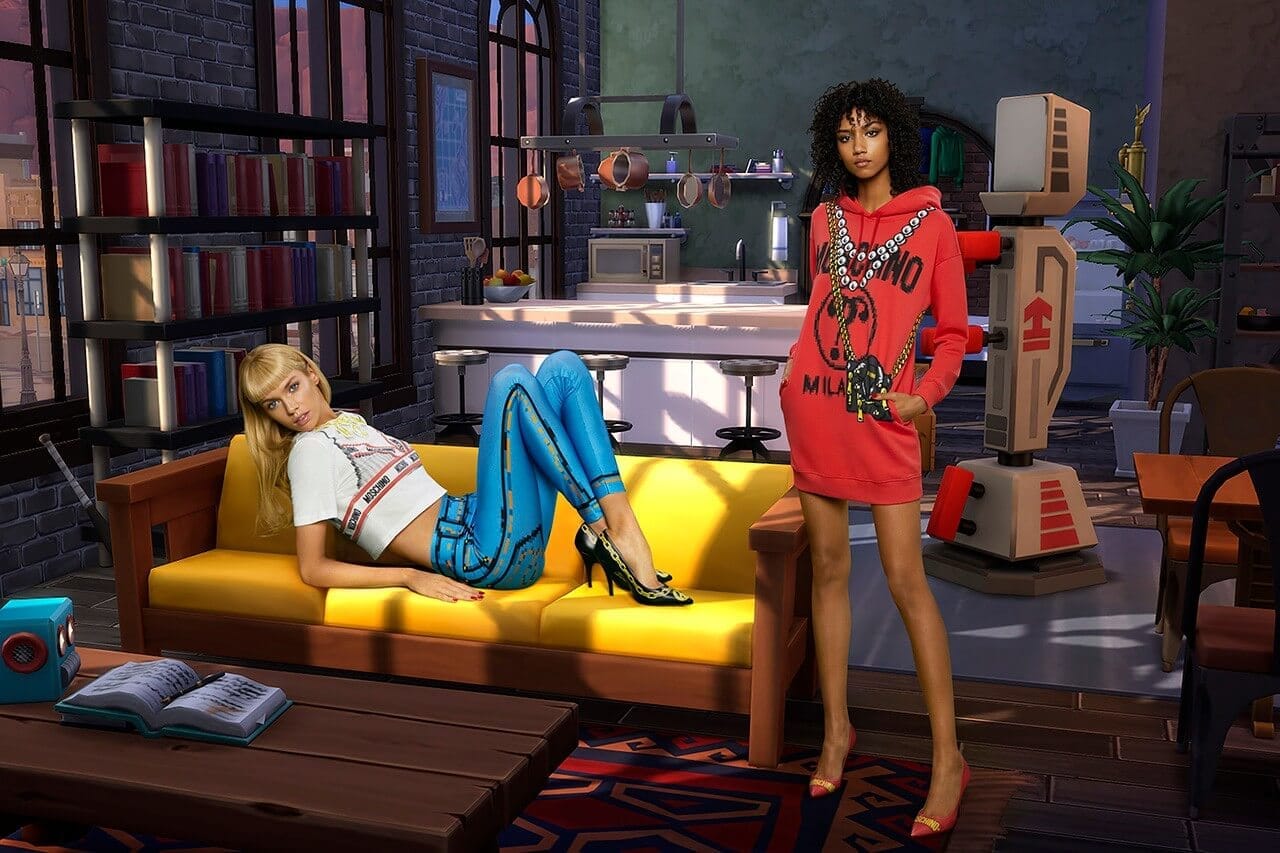 The Impact of a Pandemic Crisis
During the COVID-19 lockdown and social distancing safety measures, fashion businesses were forced to keep going and reinvent their services.
The pandemic had a significant impact on the industry's purchasing patterns, consumer behavior, and manufacturing. From online events to digital clothing, the digital shift has welcomed all to embrace virtual experiences as a response to the disruption caused by the pandemic.
However, with the pandemic showing no signs of waning, the industry will continue adopting the virtual medium. After all, most of these alternatives have been a great success.
Digitalization of the Fashion Industry For Sustainability
The rise of sustainable fashion is deeply linked to digital transformation. According to a 2018 United Nations study, the industry generates up to twenty percent of the world's water waste and sends around 21 million tons of textiles to landfills.
Both pioneer virtual brands have expressed concern about the environment and proposed to invest in digital clothing and virtual events. Fashion companies are also looking to increase online shopping experiences and change habits.
Conclusion
Over the last few years, the perception of fashion has been deeply influenced by technological advances. The emergence of digital fashion has responded to society's growing cultural approach to social media platforms and digital experiences.
Designers are still constantly challenging to showcase their ideas, and digital representations, such as virtual garments and models, are the way to go.