New ways of projecting creativity and imagination bring about the evolution of art. Many forms of art have, thus, changed as the world progresses. In fact, advances in technology have had an irreversible impact on how art is made and perceived. Different art concepts provide viewers a framework to analyze and discuss its aesthetics. As making digital art relies on the same techniques, elements, and principles, the debate surrounding the digitalization of art is a topic worth visiting.
How Digitalization Changed Visual Arts
From graphics design, 3D printing, and illustrations, the rise of technology has transitioned some basic methods into digital tools.
In recent years, visual artists have looked to craft their innovative ideas with design software. Moreover, advanced techniques, such as 3D rendering, have allowed artists to take creativity to the next level.
The Most Popular Techniques Of Digital Art
Over the years, the transition of traditional art to digitization has been led by certain formats.
3D Digital Painting
This technique utilizes software modeling to sculpt existing pieces digitally. Thus, the main advantage of 3D digital painting over traditional texturing methods is that you can see how the texture looks on your model in real-time.
3D artwork has become a popular trend over the last couple of years.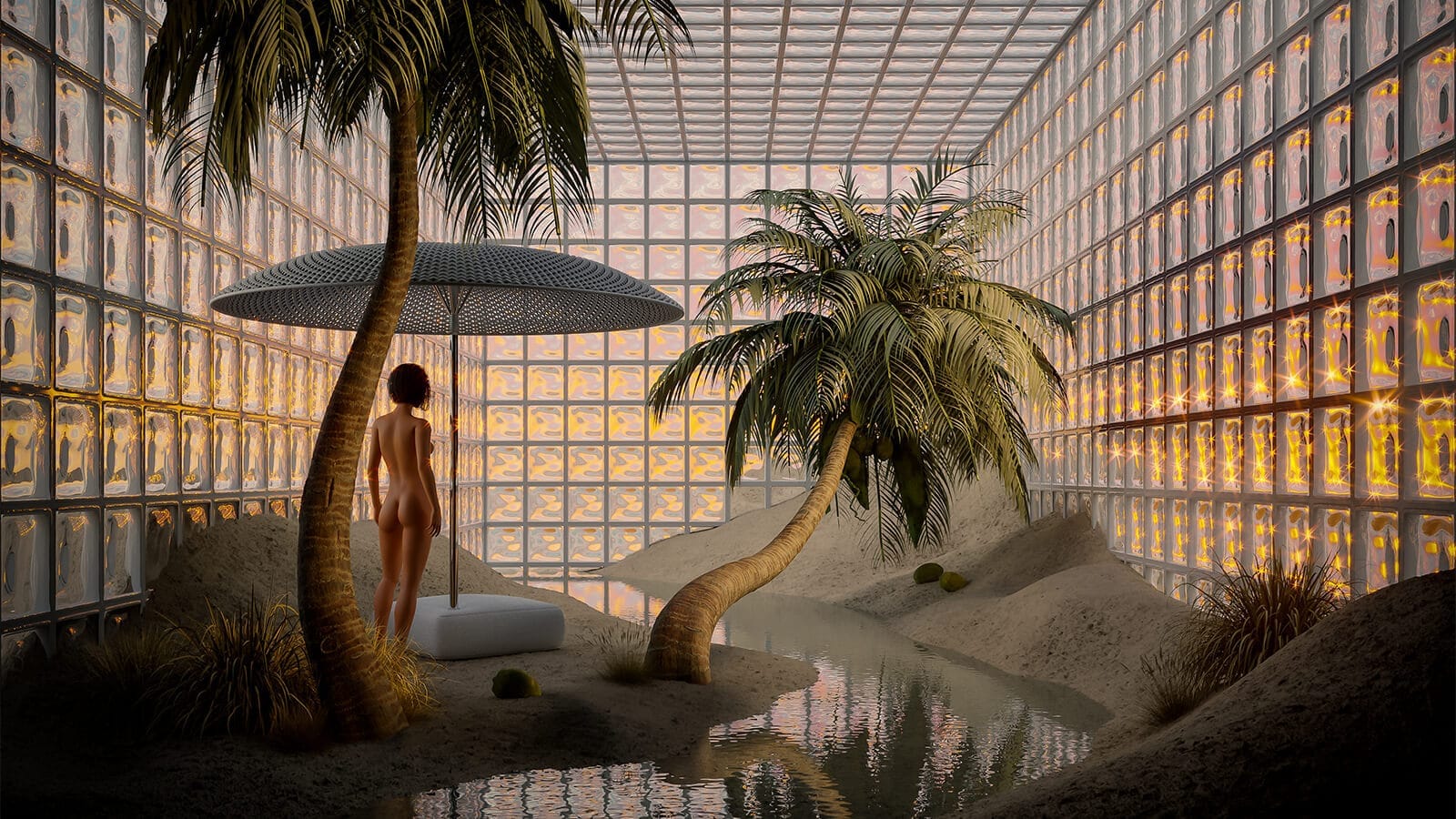 A Private Beach by Giacomo Mason
Digital Illustration
Blurring the lines between traditional and digital art is becoming a principal source of inspiration for modern artists. Illustrations tools, such as tablets or computers, appeal to control and precision when drawing.
Digital illustrations embrace a complete digital painting experience within a wide range of options that emulate traditional drawing techniques. There are various software and programs specialized in sketching to bring ideas to life.
Photo Painting
With this technique, an artist can virtually paint a picture, modifying its original form while maintaining the general layout of the subject matter. The specific visual characteristics of a digital painting can be traced back to the software with which it was generated. Examples of some characteristics are transparency, symmetry, distortion, repetition, and texture.
The artist uses painting techniques to create the digital painting directly on the computer. All digital painting programs look to mimic the use of physical media through different brush and paint effects.
Video Art
This form uses visuals, audio, and video technology to create art. This art trend began in the late 1960s when video technology became readily available to the general public.
Some examples of popular video art formats include interactive movies, visual music, and real-time computer graphics. In the digital era, this format takes place in virtual reality, augmented reality, and visual effects such as CGI.
Advantages Of Making Digital Art
Unlimited options: Several alternatives and tools to explore.
Easy to make corrections: The ability to easily redraw or edit is essential to improve the efficiency of these techniques.
Instant distribution: Artists can easily share their work through social media platforms or websites.
Increase productivity: When making digital art, you are not limited by the restrictions of the physical world.
How the Future Holds Digital Art
Making digital art is no longer a "new format." This concept remains immersive in the art world.
Recently, the improvement of digital art introduced events such as ArtFutura, a festival dedicated entirely to digital art. The festival includes modalities such as New Media, Virtual Reality, Interaction Design, and Digital Animation. It takes place in several cities such as Barcelona, Buenos Aires, London, Madrid, Montevideo, and Paris.
The continuous emergence of digital tools invites artists and visitors to create not only art pieces but also virtual experiences. As technology introduces new options to explore in digital assets, art-making will only continue to develop and improve from here.